Category Archives: Erik's Tool
I have updated my NAV Launcher software to support NAV2016. Get it or update from EriksNAVLauncherSetup_1.0.1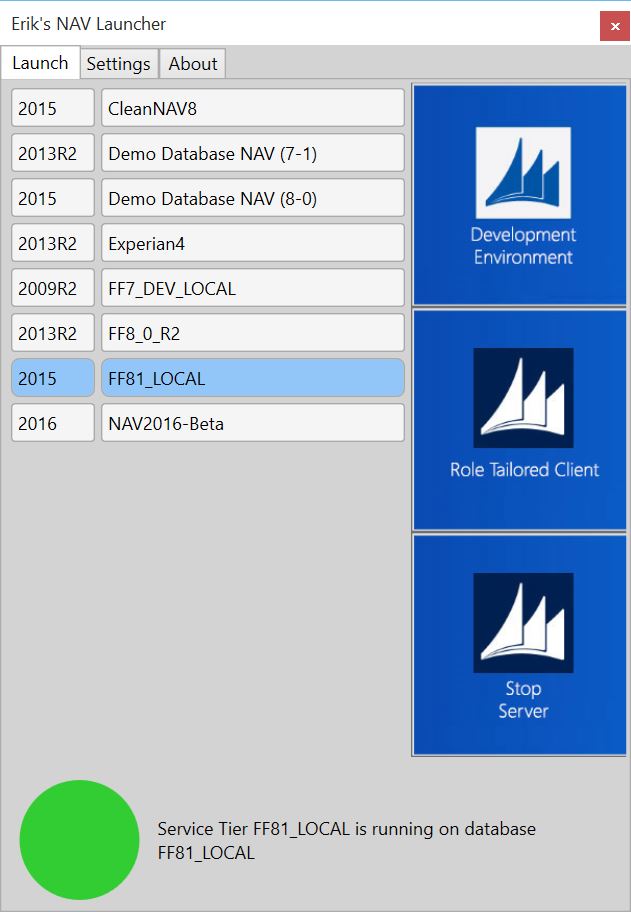 One of the things that Microsoft has chosen to hide well is the configuration of the role tailored client. There is a file called ClientUserSettings.config that is hidden away on your PC. This file controls how the client connects to the service tier. Most of the times you don't need to change anything in the file, but sometimes it is needed.
If you are a NAV developer it can happen quite often of you got installations with different authentication styles or other settings.
The file is located under AppData, a hidden folder, under your user account.
I got tired of searching and editing this file, so I created a small utility that would help me, introducing Erik's ClientUserSettings Editor.
Simply run this program, it will search your PC for all .config files (in case your got more than one version of NAV installed)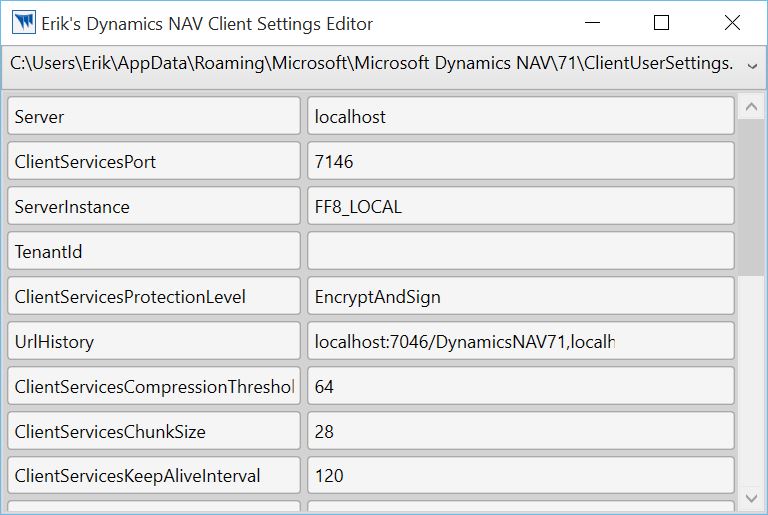 It will show all parameters in the file with values in the right column.

If you got more than one config file on your PC, select the correct on from the combo box in the top.
b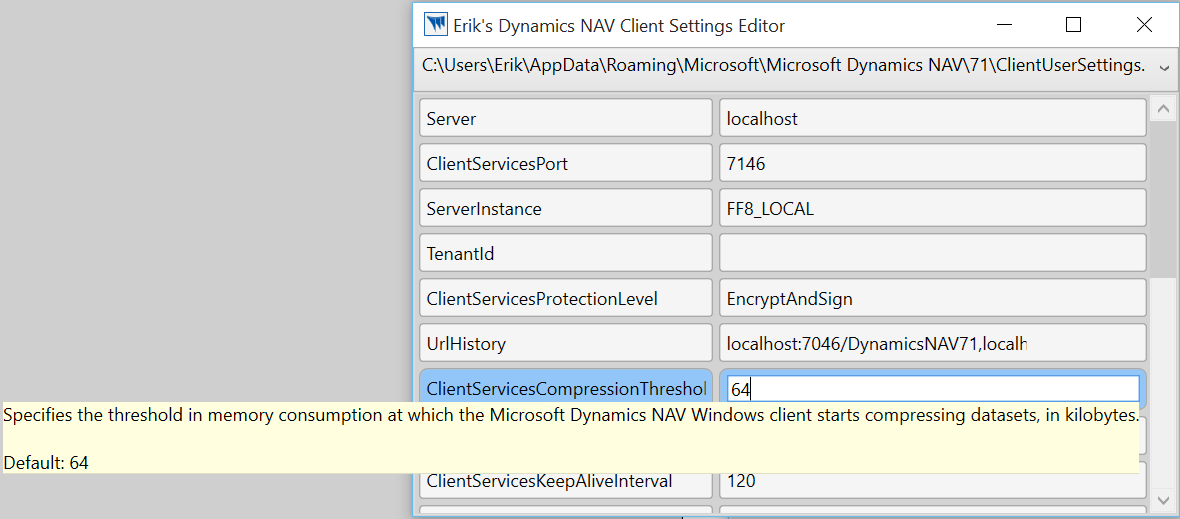 And as an extra little bonus, I've added the help text from Microsoft's website to each field, so when editing, you'll get a helping tooltip presented.
As soon as you have enter a value in a field the file is saved and ready to use.
Download from here: EriksNAVClientConfigEditor
Back in the "old" days, developing for NAV / Navision / Financials / Attain etc.. was easy. You needed the FIN.EXE (for FINSQL.EXE) and database, and then you where ready to go !
Not anymore. Since the three-tier architecture came to life, you will need a service tier running, perhaps also a web server.
And that is fine, as long as you're working on the same database for a long time. But in the real life of a NAV developer, you offend have multiple databases pr. customer and many customers.
So either, you need lots of service tiers installed, or you need to reconfigure a single service tier all the time.
Introducing "Erik's NAV Launcher":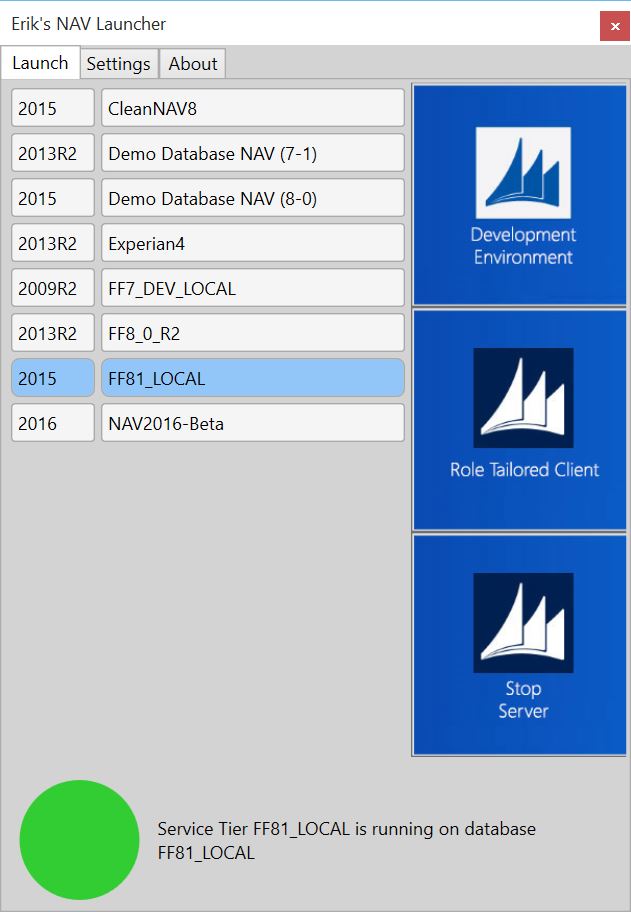 This is the program I use for handling this situation. Its a program that runs the service tier server as a child process, this is how it works:
Click on a database in the list, and click "Start Server":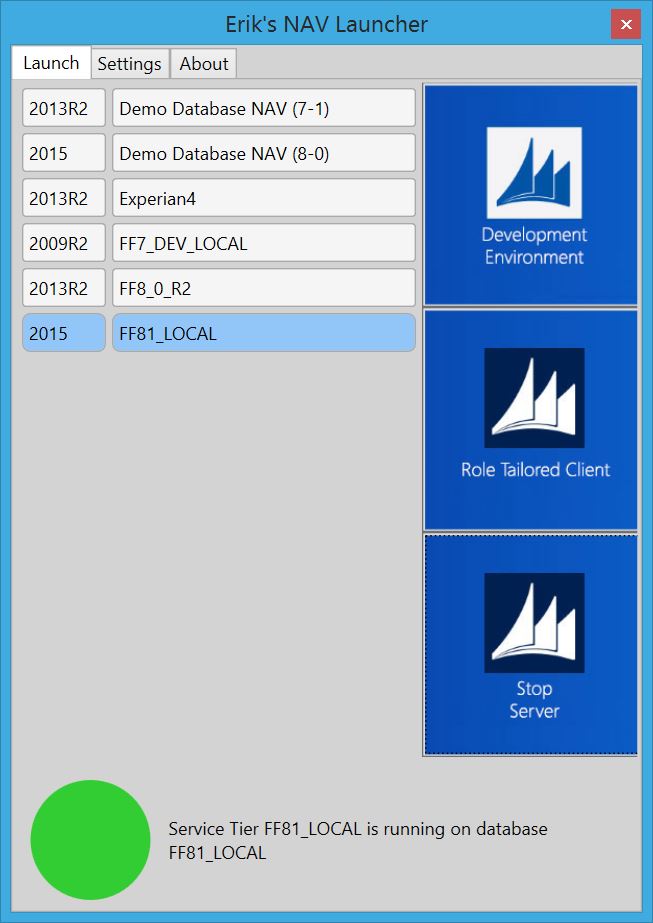 When the light is green, a service tier of the correct NAV version has been started on the selected database. (running as a process, not at as service)
Now click on either clients to start a DEV or RTC session on the database.
When done, either close the NAV launcher or click "Stop Server" to close the service tier.
Setup
Setup is quite easy, go to the "Settings" tab and select the following for each NAV version you want to support: (2016 is now support even though its not in the screenshots)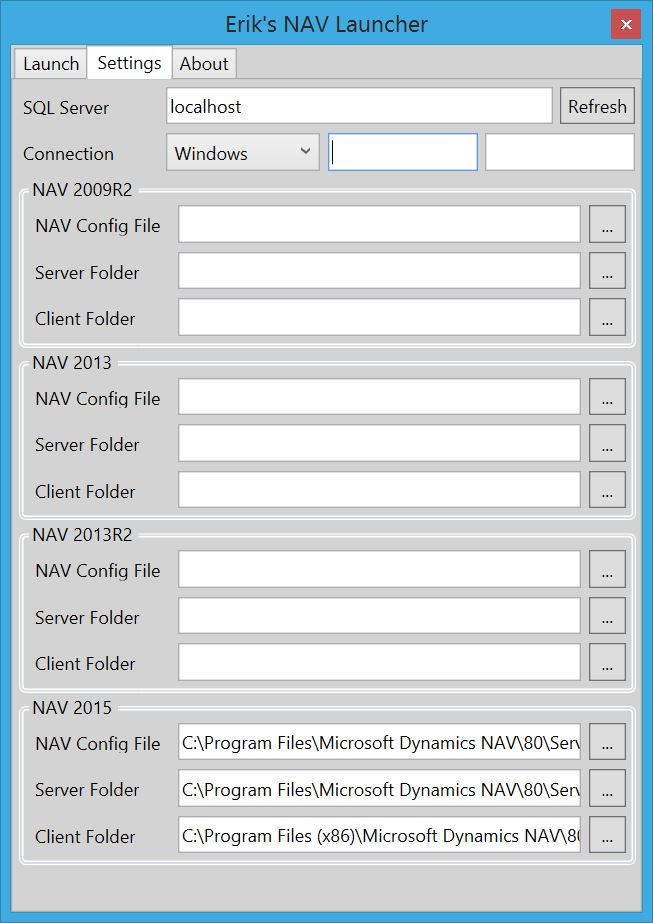 You need to specify the SQL Server you want to connect to. Database credentials is supported, but you cannot start a service tier with database credentials.
The launcher needs 3 settings pr. NAV version:
1. A config file for a service tier. The standard service tier installation is fine. Make sure that you have disabled the service in the Service Manager, as a service cannot twice at the same time. The launcher DOES modify the service file. So if you want to preserve the settings, please create a new service tier first, and then disable that.
2. The server folder (aka. Service) – typical in c:\program files\ that holds the Dynamics.NAV.Server.exe file
3. The client folder that holds the Microsoft.Dynamics.Nav.Client.exe file.
If you get a crazy error about failed compiling of temporary tables (in the 2000xxxx range) then you have a running service.
Download it from here: EriksNAVLauncherSetup_1.0.1
Please let me know if this is useful to you ?